Discover the secrets of Glencoe - and our self catering cottages in Scotland's most famous glen.
Wildlife at Torren Glencoe
Roedeer come to graze around the Glencoe Cottages in the early morning at at dusk. The birdfeeders attract greater spotted woodpeckers as well as goldcrests, siskins and a large variaty of other birds. Watch the Dippers in the river on your doorstep an enjoy the huge variety of wildflowers and small amimals which are so abundant within our 50 acres of natural woodland , locks and river. To see more of our wildlife photos, please visit our Photo Gallery page opposite.
Mammals
Roe Deer
The roe deer is primarily found in areas of mixed woodland but is capable of adapting to a wide variety of habitats. It is a small deer and is reddish-brown in summer, while greyer in winter months. The roe deer is generally more solitary than its larger red cousin, and is to be found at lower altitudes. They are distinguishable facially by a black 'moustache' stripe and white chin, and also by a cream coloured rump patch. Male roe deer are larger than females and have short antlers bearing no more than three points.
Red Fox
It's dapper, widespread and can be active by day, so you've got a better chance of seeing red fox than some other medium-sized predators in Scotland. Stay alert for fox sightings anywhere from lowland loch shores to the heights of a mountain.
 Badger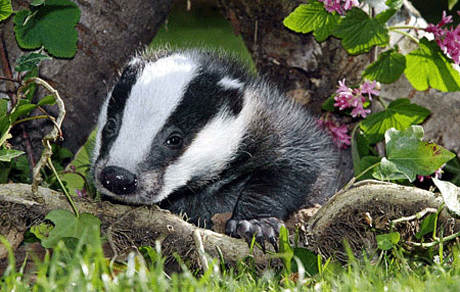 This big, black-and-white-headed woodland dweller is widely recognised, but much less often seen. There are good badger areas in parts of both the Lowlands and Highlands and some places where you could go on an organised watch.
Water Vole (Arvicola amphibius)
Whilst it may resemble a rat (even being dubbed the "water rat" or "ratty"), the water vole has fur on its tail, paws and ears, and has a rounder nose than its distant cousin. The UK population has fallen from 8 million post-1960 to below 1 million in 1998, partly thanks to the introduction of the non-native American mink into British waterways.
 How to identify
 Much bigger than other voles. Distinguished from the larger Brown Rat by its chestnut-brown fur, rounded nose, small, rounded ears that do not protrude from the fur and furry tail.
 Size
Length: 20cm plus a tail of 11cm Weight: 80-180g Average lifespan: 1.5 years
 When to see them: Jan - Dec
Field Mouse (Apodemus sylvatic)
Mice are the most common pest in both domestic and commercial premises and can contaminate food stuffs and cause serious structural damage to properties.
The Field Mouse (Apodemus sylvaticus) can grow up to 90mm in length, from the tip of its snout to the start of its tail which is longer than its head and body, often up to 100mm in length.    Field Mice look very similar to House Mouse but prefer to live out of doors. They do sometimes enter houses, but can more commonly enter sheds, garages and outhouses.
Mice are good climbers and extremely inquisitive but rarely seen and property owners often only become aware that they have mice when they see droppings or the damage they have caused. The damage can be serious and 15% of house fires are caused by rodents gnawing through electricity cables and gas pipes.
Field Micelive for up to 20 months and breed prolifically, reaching sexual maturity 42 days after birth, and can produce 8 litters a year, each litter containing between 4-7 offspring.
Pine Martin
Pine martens are cat sized members of the weasel family with long bodies (65-70 cm) covered with dark brown fur with a large creamy white throat patch. They generallyprefer to live in native woodlands but can also live in coniferplantations and on rocky hillsides.  They make breeding nests among rocks, in hollow trees or in a bird or squirrels' nest. 
They have up to five young which are born in April.  Pine martens also have a few temporary resting places (dens) within the area in which they live which they use from time to time.
 Otter
Sleek and often secretive, the otter is a mammal that you need luck and good judgement to see well. Much of the Scottish coast is excellent for otters, plus many inland waters as well. Be patient, travel in hope and your luck could hold for a sighting of this marvellous creature.
 Feral Mink
A result of the post-war boom in mink farming was the escape of mink which are now well established in the wild. Feral mink are known to be present in all Scottish mainland counties, except
Sutherland and Caithness, and are also found on the islands of Arran and Lewis. Populations are thriving on most of the main river systems. The existence of suitable habitat and adequate food supplies suggests that mink will continue to increase and spread in Scotland.
Pipistrelle Bat
The common pipistrelle (Pipistrellus pipistrellus) is a small pipistrelle bat whose very large range extends across most of Europe, North Africa, southwestern Asia, and possibly into Korea. It is one of the most common bat species in the British Isles.
The common pipistrelle is the smallest bat found in Europe. It is 3.5–5.2 cm (1.4–2.0 in) long along the head-and-body, with the tail adding 2.3–3.6 cm (0.91–1.4 in). The body mass can range from 3.5 to 8.5 g (0.12 to 0.30 oz), with the wingspan ranging from 18 to 25 cm . Its brown fur is variable in tone. It is common in woodland and farmland but is also found in towns, where the females roost in lofts and buildings when rearing young.
In 1999 the common pipistrelle was split into two species on the basis of different-frequency echolocation calls. The common pipistrelle uses a call of 45 kHz, while the soprano pipistrelle echolocates at 55 kHz. Since the two species were distinguished, a number of other differences, in appearance, habitat and food, have also been discovered.
Long Eared Bat
The brown long-eared bat or common long-eared bat (Plecotus auritus) is a fairly large European bat. It has distinctive ears, long and with a distinctive fold. It is extremely similar to the much rarer grey long-eared bat which was only validated as a distinct species in the 1960s.
An adult brown long-eared bat has a body length of 4.5-4.8 cm, a tail of 4.1-4.6 cm, and a wing length of 4-4.2 cm. The ears are 3.3-3.9 cm in length, and readily distinguish this from most other bat species.
They are relatively slow flyers compared to other bat species.
Birds
Blackbird
Common Blackbird (Turdus merula)
 Edinburgh, Scotland
The Male Blackbird is unmistakeable with his all black plumage and his yellow bill and eye-ring.
Essentially a woodland bird, it has adapted very successfully to farmland and gardens.
 The female, is grey-brown with a brownish-white throat and speckled breast. The bill is dark.
Blue tit
At first glance the acrobatic and cheeky Blue Tit is a blue and yellow bird.
 A closer inspection reveals bright blue wings, tail and crown, yellow underparts, greenish back and mantle, white cheeks, and black eye stripe, bib and collar. They also have a black streak down the middle of the belly, and a white wing bar (across the coverts). The bill is black and the legs are a blue-grey.
The sexes are similar, though the female is slightly paler.
The juvenile birds are duller than the adults and have greener crown, wings and tail, and yellow cheeks.
Bullfinch
The Bullfinch is a large, plump finch which feeds on buds and fruit in woodlands, hedgerows, parklands, gardens and orchards. Beautiful, easy to tame and skilful at mimicry, it was often taken as a cage-bird in times past. Shy and secretive, its melancholy call may be the only indication of its presence in a thicket. Bullfinches usually nest in shrubs, such as hawthorn and blackthorn, making a flimsy nest out of twigs and moss.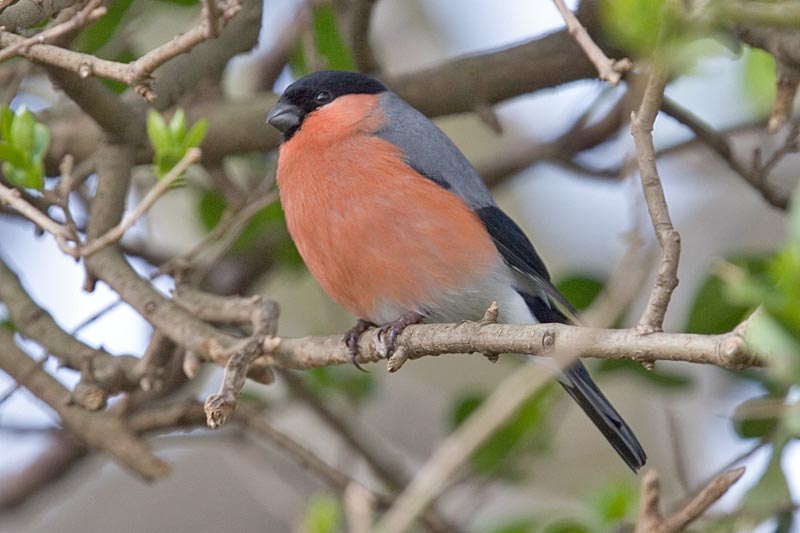 How to identify
Unmistakeable if seen well: male Bullfinches have a black cap, stubby black bill, grey back, black and white wing, black tail, white rump and rose-red breast. Females are greyish-brown.
Size
Length: 16cm Wingspan: 26cm
Weight: 21g Average Lifespan: 2 years
When to see them : January - December
Buzzard
The Common Buzzard is now living up to its name. Formerly widespread throughout Scotland it was subject to much persecution, during the 19 th and much of the 20 th centuries, and as a result was restricted to the more upland areas of north and west Scotland, though often at quite high densities. In the last 20-30 years there has been a considerable expansion in range into eastern Scotland and the central belt. So much so that this species is now the commonest raptor in Scotland. The BTO Breeding Bird Survey showed a 63% increase in numbers in Scotland between 1994 and 2004. It is now to be seen soaring over most of the Scottish countryside giving its characteristic loud mewing "piiyay" call or perched on poles and even on street lights at the edge of some of our largest towns and cities.
Chaffinche
Scotland's most abundant garden bird is the chaffinch, the world's biggest bird survey has revealed.
Almost three quarters of the 26,788 people in Scotland involved in the RSPB's Big Garden BirdWatch saw at least one chaffinch in their gardens.
At an ave rage of 5 . 4 3 chaffinches over an hour, they were the most populous species.
House sparrows were next, with at least one seen in 66.84 per cent of gardens, ahead of starlings on 45.78 per cent.
The most widely observed bird was the blackbird, seen in 91.8 per cent of gardens, but there were only 2.83 of them per garden over an hour.
Almost 400,000 people across the UK counted more than six million birds in 228,000 gardens over the weekend of January 26 and 27.
Coal Tit
Edinburgh, Scotland and Cheli La, Bhutan
The Coal Tit is distributed throughout most of Europe and into most of Asia. It is normally found in conifer woodland where spruce seeds are a favourite food but it is also found in mixed forest and woodland.
It is slightly smaller than a Blue Tit P. caeruleus with a shorter tail. Its principal features are the black head with white cheeks and white nape patch and the two white wing-bars. British birds are olive-grey on the upperparts though this colour varies in other parts of its range.
Apart from seeds it eats insects and spiders.
 Common Sandpiper

The common sandpiper is a smallish wading bird which breeds along fast-moving rivers and near lakes, lochs and reservoirs in Scotland, Wales, Northern Ireland and the north of England. Wintering birds may be spotted along the south coast but passage migrants can be seen at the edge of freshwater lakes or on estuaries during spring and autumn. It bobs up and down when standing, known as 'teetering', and has a distinctive, stiff-winged flight.
Cormorant 
A large and conspicuous waterbird, the cormorant has an almost primitive appearance with its long neck making it appear almost reptilian. It is often seen standing with its wings held out to dry. Regarded by some as black, sinister and greedy, cormorants are supreme fishers which can bring them into conflict with anglers and they have been persecuted in the past. The UK holds internationally important wintering numbers.
Cuckoo
About the size of a collared dove, cuckoos are a scarce summer visitor to most of Britain, arriving in April - their familiar 'cuck-oo' call heralds the start of spring. The adults leave for Africa by June or July, almost as soon as they have laid their eggs, while the young birds follow them in the autumn.
Adults are 'brood-parasites' famous for laying their eggs in other birds' nests and fooling them into raising their young for them. Dunnocks, meadow pipits and reed warblers are common victims of this 'cuckolding' behaviour.


Dipper
 The dipper is a short-tailed, plump bird with a low, whirring flight. When perched on a rock it habitually bobs up and down and frequently cocks its tail. Its white throat and breast contrasts with its dark body plumage. It is remarkable in its method of walking into and under water in search of food. It likes fast-flowing, shallow streams and rivers with plenty of exposed rocks and riverbanks with tree roots and boulders. Will nest under bridges and in walls. Dippers feed on insect larvae and freshwater shrimps.
When to see this species : Spring, Summer, Autumn, Winter

Fieldfare
Fieldfares belong to the family of thrushes and chats. These winter visitors from Scandinavia are very social, spending the season in groups of a dozen to several hundred. Their favourite food includes berries, insects, snails and worms. Adult forms
of this bird are similar in appearance, except the female is paler. Best place to look for Fieldfares is mainly countryside, fields with nearby trees and hedges.
When : October to March
Where :Throughout the Park
Goldcrest
The Goldcrest (Regulus regulus) is a very small passerine bird in the kinglet family. Its colourful golden crest feathers gives rise to its English and scientific names, and possibly to it being called the "king of the birds" in European folklore. Several subspecies are recognised across the very large distribution range that includes much of Eurasia and the islands of Macaronesia. Birds from the north and east of its breeding range migrate to winter further south.
The Goldcrest breeds in coniferous woodland and gardens, building its compact, three-layered nest on a tree branch. Ten to twelve eggs are incubated by the female alone, and the chicks are fed by both parents; second broods are common. This kinglet is constantly on the move as it searches for insects to eat, and in winter it is often found with flocks of tits. It may be killed by birds of prey or carry parasites, but its large range and population mean that it is not considered to present any significant conservation concerns.
Golden eagle
A huge bird of prey, with only the white-tailed eagle larger in the UK. With its long broad wings and longish tail, it has a different outline to the smaller buzzard. It likes to soar and glide on air currents, holding its wings in a shallow 'V'.  Eagles have traditional territories and nesting places which may be used by generations. They have been illegally killed in the past and are still occasionally poisoned, or have their nests robbed.
 Goldeneye
Not only the title of a James Bond adventure, but also an appealing duck, which breeds in the Highlands and nowhere else in Britain. Watch for courtship displays in late winter and spring, where drakes make dramatic head-flicking and bobbing moves to impress females.
What to look for
A chunky head (black in drakes, dark chocolate in ducks) short bill and stocky body are part of the goldeneye's distinctive look. Drakes are piebald, with a large white mark between each eye (yes - they're golden-yellow) and the bill. Broad white wing flashes show well in flight.
Interesting facts
Goldeneye started breeding in Scotland in 1970, helped in large measure by keen birdwatchers that provided tree-and-post-mounted nestboxes for them. These nestboxes are also popular with pine martens (which eat goldeneye eggs and ducklings), giving conservationists an interesting dilemma.
Great spotted woodpecker
Great spotted woodpeckers are the most widespread and numerous woodpecker in the UK. They have a large range covering almost the entire Palearctic from Britain in the west to Japan in the east and reaching North Africa and the Canary Islands in the south-west. They are not found in Ireland or the far north of Scotland.
Scientific name: Dendrocopos major
Common names:Greater spotted woodpecker
Great Tit
 The Great Tit is a distinctive bird, with a black head and neck, prominent white cheeks, olive upperparts and yellow underparts, with some variation amongst the numerous subspecies. It is predominantly insectivorous in the summer, but will consume a wider range of food items in the winter months, including small hibernating bats. Like all tits it is a cavity nester, usually nesting in a hole in a tree. The female lays around 12 eggs and incubates them alone, although both parents raise the chicks. In most years the pair will raise two broods.
 The nests may be raided by woodpeckers, squirrels and weasels and infested with fleas, and adults may be hunted by Sparrowhawks. The Great Tit has adapted well to human changes in the environment and is a common and familiar bird in urban parks and gardens. The Great Tit is also an important study species in ornithology.
Grey wagtail
The grey wagtail is more colourful than its name suggests with slate grey upper parts and distinctive lemon yellow under-tail. Its tail is noticeably longer than those of pied and yellow wagtails. They have gradually increased their range in the past 150 years and in the UK have expanded into the English lowlands from the northern and western uplands. They are badly affected by harsh winters, and because of recent moderate declines it is an Amber List species.
Heron Hooded crow

The Hooded Crow (Corvus cornix) (sometimes called Hoodiecrow) is a Eurasian bird species in the crowgenus. Widely distributed, it is also known locally as Scotch Crow, Danish Crow, and Corbie or Grey Crow in Ireland; Grey Crow is also what its Welsh name, Brân Lwyd, translates as. Found across Northern, Eastern and Southeastern Europe, as well as parts of the Middle East, it is an ashy grey bird with black head, throat, wings, tail and thigh feathers, as well as a black bill, eyes and feet. Like other corvids it is an omnivorous and opportunistic forager and feeder.It is so similar in morphology and habits to the Carrion Crow (Corvus corone) that for many years they were considered by most authorities to be merely geographical races of one species.
 The fact that hybridization was observed where their ranges overlapped added weight to this view. However, since 2002, the Hooded Crow has been elevated to full species status after closer observation; the hybridisation was less than expected and hybrids had decreased vigour. Within the Hooded Crow species, four subspecies are recognized, with one, the Mesopotamian Crow, possibly distinct enough to warrant species status itself.
 Common House Martin
The Common House Martin (Delichon urbicum), sometimes called the Northern House Martin or, particularly in Europe, just House Martin, is a migratorypasserinebird of the swallow family which breeds in Europe, north Africa and temperate Asia; and winters in sub-Saharan Africa and tropical Asia. It feeds on insects which are caught in flight, and it migrates to climates where flying insects are plentiful. It has a blue head and upperparts, white rump and pure white underparts, and is found in both open country and near human habitation. It is similar in appearance to the two other martin species of the Delichon genus, which are both endemic to eastern and southern Asia. It has two accepted subspecies.
Both the scientific and colloquial name of the bird are related to its use of man-made structures. It builds a closed cup nest from mud pellets under eaves or similar locations on buildings usually in colonies, but sometimes fouling below nests can be a problem.
It is hunted by the Eurasian Hobby (Falco subbuteo), and like other birds is affected by internal parasites and external fleas and mites, but its large range and population mean that it is not threatened globally. Its proximity to man is generally accepted leading to some cultural and literary references.
Jay
Jays are several species of medium-sized, usually colorful and noisy, passerine birds in the crow family Corvidae. The names jay and magpie are somewhat interchangeable, and the evolutionary relationships are rather complex.  
When to see them
All year round, but often more obvious in autumn when they travel most in search of acorns, beech mast and hazelnuts to bury.
Little grebe
A small, dumpy grebe which often appears to have a 'fluffy' rear end. It readily dives when disturbed, surfacing unseen some distance away. In summer it has a bright chestnut throat and cheeks and a pale gape patch at the base of the bill. It can be noisy, with a distinctive whinnying trill.  
Long-tailed tit
This species has been described as a tiny (at only 13–15 cm in length, including its 7–9 cm tail), round-bodied tit with a short, stubby billand a very long, narrow tail. The sexes look the same and young birds undergo a complete moult to adult plumage before the first winter. The plumage is mainly black and white, with variable amounts of grey and pink.
Mallard
 The mallard is a large and heavy looking duck. It has a long body and a long and broad bill. The male has a dark green head, a yellow bill, is mainly purple-brown on the breast and grey on the body. The female is mainly brown with an orange bill. It breeds in all parts of the UK in summer and winter, wherever there are suitable wetland habitats, although it is scarcer in upland areas. Mallards in the UK may be resident breeders or migrants - many of the birds that breed in Iceland and northern Europe spend the winter here.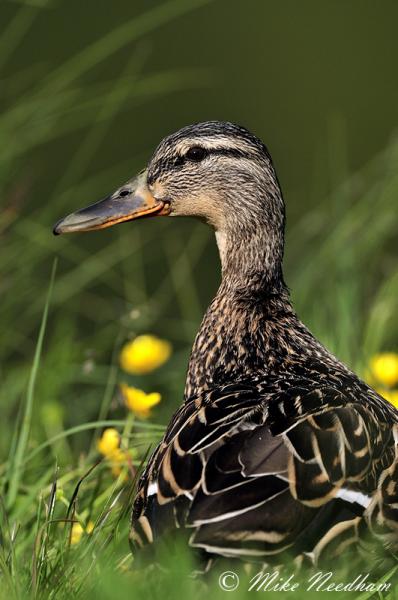 Merganser
The Common Merganser (Mergus merganser) is a large duck, of rivers and lakes of forested areas of Europe, northern and central Asia, and North America. It eats fish and nests in holes in trees. John James Audubon called this bird the "Buff-breasted Merganser" in his book The Birds of America.
It is 58–72 cm (23–28 in) long with a 78–97 cm (31–38 in) wingspan, and a weight of 0.9–2.1 kg (2.0–4.6 lb); males average slightly larger than females but with some overlap. Like other species in the genus Mergus, it has a crest of longer head feathers, but these usually lie smoothly rounded behind the head, not normally forming an erect crest. Adult males in breeding plumage are easily distinguished, the body white with a variable salmon-pink tinge, the head black with an iridescent green gloss, the rump and tail grey, and the wings largely white on the inner half, black on the outer half. Females, and males in "eclipse" (non-breeding plumage, July to October) are largely grey, with a reddish-brown head, white chin, and white secondary feathers on the wing. Juveniles (both sexes) are similar to adult females but also show a short black-edged white stripe between the eye and bill. The bill and legs are red to brownish-red, brightest on adult males, dullest on juveniles.
Merlin
The UK's smallest bird of prey, this compact, dashing falcon has a relatively long, square-cut tail and rather broad-based pointed wings, shorter than those of other falcons. Its wingbeat tends to be rapid with occasional glides, wings held close to the body. Its small size enables it to hover and hang in the breeze as it pursues its prey. In winter the UK population increases as most of the Icelandic breeding birds migrate to our warmer climate. Although recovering from a population crash in the late 20th century it is still on the Amber List.  
Mistle thrush
This is a pale, black-spotted thrush - large, aggressive and powerful. It stands boldly upright and bounds across the ground while in flight, it has long wings and its tail has whitish edges. It is most likely to be noticed perched high at the top of a tree, singing its fluty song or giving its rattling call in flight.
Where to see them
This is a widespread bird in the UK, found almost everywhere except the highest, barest ground, and absent from the northern and western isles of Scotland. It can be seen in woodland, parkland and gardens.
When to see them
All year round. Watch for flocks in July and August.
Moorhens
Moorhens, sometimes called marsh hens or river chickens, are medium-sized water birds that are members of the rail family Rallidae. They constitute the genus Gallinula. ey are close relatives of coots, and because of their apparently nervous behavior (frequently twitching tail, neck and grinding their backs) are sometimes called "skitty coots". Often, they are referred to as (black) gallinules.
Peregrine
The peregrine is a large and powerful falcon. It has long, broad, pointed wings and a relatively short tail. It is blue-grey above, with a blackish top of the head and an obvious black 'moustache' that contrasts with its white face. Its breast is finely spotted. It is swift and agile in flight, chasing prey.
The strongholds of the breeding birds in the UK are the uplands of the north and west and rocky seacoasts. Peregrines have suffered illegal killing from gamekeepers and landowners, and been a target for egg collectors, but better legal protection and control of pesticides (which indirectly poisoned birds) have helped the population to recover considerably from a low in the 1960s. Some birds, particularly females and juveniles, move away from the uplands in autumn.  
Pied wagtail
A delightful small, long-tailed and rather sprightly black and white bird. When not standing and frantically wagging its tail up and down it can be seen dashing about over lawns or car parks in search of food. It frequently calls when in its undulating flight and often gathers at dusk to form large roosts in city centres.
Where to see them
They can be found across the UK, leaving some of the highland and northern areas of Scotland in winter. Best looked for near water and can be found in most habitats, even town centres. They gather together in large roosts, sometimes in towns, often assembling on roofs beforehand.
When to see them
All year round. 
Raven
 The raven is a big black bird, a member of the crow family. It is massive - the biggest member of the crow family. It is all black with a large bill, and long wings. In flight, it shows a diamond-shaped tail.

Ravens breed mainly in the west and north although they are currently expanding their range eastwards. Most birds are residents, though some birds - especially non-breeders and young birds - wander from their breeding areas but do not travel far.
Where to see them:
Best looked for in upland areas of south-west England, Wales, the north Pennines and Lake District and much of Scotland.
 When to see them:
All year round.
What they eat: Carrion
Reed warbler
The reed warbler is a plain unstreaked warbler. It is warm brown above and buff coloured underneath. It is a summer visitor to breed in the UK, with the largest concentrations in East Anglia and along the south coast - there are relatively few breeding in Scotland and Ireland. It winters in Africa.
Where to see them
In the summer, can be looked for in reedbeds in lowland central and southern England and Wales - it is rarer elsewhere. Sings from within the reedbed rather than from a perch, so often heard rather than seen.
When to see them
Mid-April to early October.
Robin
The UK's favourite bird - with its bright red breast it is familar throughout the year and especially at Christmas! Males and females look identical, and young birds have no red breast and are spotted with golden brown. Robins sing nearly all year round and despite their cute appearance, they are aggressively territorial and are quick to drive away intruders. They will sing at night next to street lights.

Latin name : 
Erithacus rubecula
Rock dove
The rock dove is the wild ancestor of domestic pigeons the world over, domesticated originally to provide food. Feral pigeons come in all shades, some bluer, others blacker - some are pale grey with darker chequered markings, others an unusual shade of dull brick-red or cinnamon-brown, and still others can be or less white while others look exactly like wild rock doves. In urban areas where the numbers are allowed to increase they can become pests.  
Where to see them
The wild rock dove is now found only along the north and west coasts of Scotland, on offshore islands, and on Northern Ireland coasts. Feral, or domestic, pigeons breed almost everywhere apart from upland areas, with the highest density in the most populated urban and suburban areas.
Sandmartin
Sand martins are the smallest European hirundines (martins and swallows), with dark brown upper parts and dark under wings contrasting with otherwise pale under parts divided by a distinctive dark chest bar. Agile fliers, feeding mainly over water, they will perch on overhead wires or branches. They are gregarious in the breeding season and winter. Over the past 50 years the European population has crashed on two occasions as a result of drought in the birds' African wintering grounds .
Where to see them
Found along rivers and other water bodies throughout the UK. Also found around man-made gravel pits where artificial nesting banks are sometimes provided.
When to see them:
March to October
Shelduck
This is a big, colourful duck, bigger than a mallard but smaller than a goose. Both sexes have a dark green head and neck, a chestnut belly stripe and a red bill.
Where to see them : 
Mainly in coastal areas, though they can also be found around inland waters such as reservoirs and gravel workings.
When to see them : 
Any time of year, but the population swells to more than 81,000 birds during winter.
What they eat : 
Invertebrates, small shellfish and aquatic snails.
Siskin
The siskin is a small, lively finch, which is smaller than a greenfinch. It has a distinctly forked tail and a long narrow bill. The male has a streaky yellow-green body and a black crown and bib. There are yellow patches in the wings and tail. It is mainly a resident breeder from southern England to northern Scotland, but is most numerous in Scotland and Wales. Many breeding birds are residents; in winter birds arrive here also from Europe. 
Where to see them
In the breeding season, look for it in the tops of trees in suitable habitat in Scotland and Wales, where they are fairly common. In winter they are seen more widely across England as well
Song thrush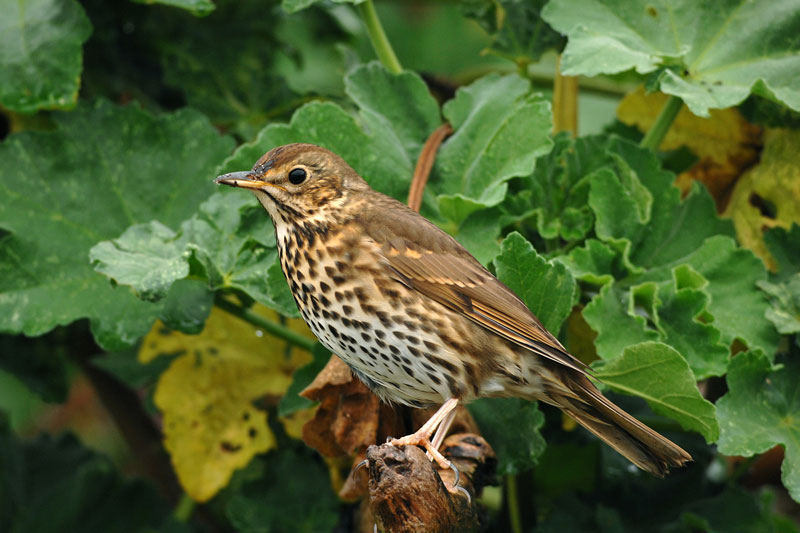 A familiar and popular garden songbird whose numbers are declining seriously, especially on farmland making it a Red List species. Smaller and browner than a mistle thrush with smaller spotting. Its habit of repeating song phrases distinguish it from singing blackbirds. It likes to eat snails which it breaks into by smashing them against a stone with a flick of the head. 
Sparrow hawk
Sparrowhawks are small birds of prey. They're adapted for hunting birds in confined spaces like dense woodland, so gardens are ideal hunting grounds for them. Adult male sparrowhawks have bluish-grey back and wings and orangey-brown bars on their chest and belly. Females and young birds have brown back and wings, and brown bars underneath. Sparrowhawks have bright yellow or orangey eyes, long, yellow legs and long talons. Females are larger than males, as with most birds of prey. 
Starling
Smaller than blackbirds, with a short tail, pointed head,triangular wings, starlings look black at a distance bu twhen seen closer they are very glossy with a sheen of purples and greens.
Their flight is fast and direct and they walk and run confidently on the ground. Noisy and gregarious, starlings spend a lot of the year in flocks. Still one of the commonest of garden birds, its decline elsewhere makes it a Red List species. 
Stonechat
Stonechats are robin sized birds. Males have striking black heads with white around the side of their neck, orange-red breasts and a mottled brown back. Females lack the male's black head, but have brown backs and an orange tinge to their chests. Birds are frequently seen flicking their wings while perched, often doing so on the tops of low bushes. As its name suggests, birds utter a sharp loud call that sound like two stones being tapped together. They breed in western and southern parts of the UK, but disperse more widely in winter. 
Tawny owl
The tawny owl is an owl the size of a pigeon. It has a rounded body and head, with a ring of dark feathers around its face surrounding the dark eyes. It is mainly reddish brown above and paler underneath. It is a widespread breeding species in England, Wales and Scotland but not found in Ireland. Birds are mainly residents with established pairs probably never leaving their territories. Young birds disperse from breeding grounds in
Tree creeper
The treecreeper is small, very active, bird that lives in trees. It has a long, slender, downcurved bill. It is speckly brown above and mainly white below. It breeds in the UK and is resident here. Birds leave their breeding territories in autumn but most range no further than 20 km. Its population is mainly stable. 
Where to see them
Best looked for on the trunks of trees in suitable woodland. In autumn and winter, it often joins flocks of tits and other small birds, so if you come across such a flock in a wood, it is worth listening out for a treecreeper among them.
Tufted duck
The tufted duck is a medium-sized diving duck, smaller than a mallard. It is black on the head, neck, breast and back and white on the sides. It has a small crest and a yellow eye. In flight it shows an obvious white stripe across the back of the wing. It breeds in the UK across lowland areas of England, Scotland and Ireland, but less commonly in Wales, with most birds being residents. Numbers increase in the UK in winter because of birds moving to the UK from Iceland and northern Europe. 
Whinchat
The whinchat is a small perching bird. It hops or runs on the ground and often perches on top of low bushes. It has a prominent white stripe above the eye. It is streaky brown above and warm orange-buff on the breast.
The whinchat is a summer visitor and passage migrant. Birds breed in upland areas of northern and western Britain with a few in Ireland. It winters in central and southern Africa. Whinchat numbers in Britain more than halved between 1995 and 2008, the cause(s) being unknown.
Whooper swan
The whooper swan is a large white swan, bigger than a Bewick's swan. It has a long thin neck, which it usually holds erect, and black legs. Its black bill has a large triangular patch of yellow on it. It is mainly a winter visitor to the UK from Iceland, although a couple of pairs nest in the north. The estuaries and wetlands it visits on migration and for winter roosts need protection. Its winter population and small breeding numbers make it an Amber List species. 
Widgeon
The wigeon is a medium-sized duck with a round head and small bill. The head and neck of the male are chestnut, with a yellow forehead, pink breast and grey body. In flight birds show white bellies and males have a large white wing patch. Birds breed in central and northern Scotland and also in northern England. Many birds visit the UK in winter from Iceland, Scandinavia and Russia. With large numbers of wintering birds at a few UK sites it is an Amber List species. 
Willow warbler
Willow warblers are small birds with grey-green backs and pale under parts. They have a yellow tinged chest and throat and pale supercillium (the stripe above the eye). They are separated from the very similar chiffchaff by their song. Their population, especially in southern Britain, has undergone a moderate decline over the past 25 years making them an Amber List species 
Woodcock
The woodcock is a large bulky wading bird with short legs, and a very long straight tapering bill. It is largely nocturnal, spending most of the day in dense cover. Most of the birds in the UK are residents; in the autumn birds move to the UK from Finland and Russia to winter here.
 The breeding population has been falling recent years, perhaps because of less habitat as conifer plantations become too mature for woodcocks to find open enough breeding areas.
Wren
The wren is a tiny brown bird, although it is heavier, less slim, than the even smaller goldcrest. It is dumpy, almost rounded, with a fine bill, quite long legs and toes, very short round wings and a short, narrow tail which is sometimes cocked up vertically. For such a small bird it has a remarkably loud voice. It is the commonest UK breeding bird, although it suffers declines during prolonged, severely cold winters. 
BUTTERFLIES

Common Blue
Living up to its name, this butterfly is the commonest blue found in the British Isles. While the male has bright blue uppersides, the female is primarily brown, with a highly variable amount of blue. This is the most widespread Lycaenid found in the British Isles and can be found almost anywhere, including Orkney. It is absent, however, from Shetland and the mountainous areas of Wales and Scotland. This butterfly forms reasonably discrete colonies measured in tens or hundreds, with individuals occasionally wandering some distance.
Dark Green Fritillary
The Dark Green Fritillary is the most widespread fritillary found in the British Isles and is a pleasure to see as it flies powerfully over its grassland habitats, frequently stopping to nectar on Thistles and Knapweed. It gets its name from the green hue found on the underside of the hindwings, which are peppered with large silver spots.
This butterfly can be found throughout the British Isles, although it is less common in central and eastern England. Outside of central Scotland and southern England, it is most frequently found in coastal areas and is the only fritillary found in Orkney and the Outer Hebrides. Despite its powerful flight, it is somewhat surprising that this species is not particularly mobile, staying within its breeding grounds.
Green Hairstreak
This butterfly is the most widespread of our hairstreaks. However, it is also a local species, forming distinct colonies which can be as small as a few dozen individuals, although other colonies can be much larger. Both sexes always settle with their wings closed, the brown uppersides only ever being seen in flight.
The undersides, by contrast, provide the illusion of being green, an effect produced by the diffraction of light on a lattice-like structure found within the wing scales, which provides excellent camouflage as the butterfly rests on a favourite perch, such as a Hawthorn branch. This butterfly will also regulate its body temperature by tilting its wings appropriately to catch the sun's rays. This butterfly is found throughout the British Isles – partly due to the wide variety of foodplants it uses, and the wide range of habitats it frequents. However, it is absent from the Isle of Man, Outer Hebrides, Orkney and Shetland.
Green-Veined White
This is a common butterfly of damp grassland and woodland rides and is often mistaken for its cousin, the Small White. It can be found from spring through to autumn in parks and gardens, as well as less-urban areas such as meadows and woodland rides. The so-called green veins on the underside of the adults are, in fact, an illusion created by a subtle combination of yellow and black scales. This is one of the most widespread species found in the British Isles and can be found almost everywhere although it is absent from Shetland and areas of the Scottish Highlands.
Gatekeeper / Hedge Brown (Pyronia tithonus)
The Gatekeeper is a common species of sheltered grassland such as adjacent to scrub, along hedgerows, woodland edges and rides where its larvae feed on a range of fine and medium-leaved grasses. The butterfly is expanding its range in Britain.
Large Heath
Found in the north of the British Isles, the Large Heath is unique in that it is more or less confined to boggy areas. The Large Heath lives on the British mainland in isolated colonies from central Wales in the south to Orkney in the north, and also in scattered colonies throughout Ireland. It is absent from Shetland. The best colonies can be very large in good years, where the number of adults emerging is measured in thousands. Large colonies used to exist in the mosses around Manchester and Liverpool, but these have long since disappeared.
The eye spots on the underside of this species vary considerably. Those in the north have almost no spots at all with adults looking like a large Small Heath, while those in the south have very distinctive spots. This has given rise to 3 named subspecies. Brakefield (1992) describes, in detail, the reason for this variation, which is believed to be natural selection based on predation by birds. The cooler climate in the north, along with fewer hours of daylight, results in less-active adults whose plain undersides make them difficult to find while at rest. Adults further south, on the other hand, are much more active and are more-likely to attract the attention of birds as a result. In this case, the distinct eye spots deflect the bird's attention away from the body.
Meadow Brown
The Meadow Brown is one of our commonest and most widespread butterflies, and a familiar sight throughout the summer months across the British Isles. This is a highly variable species, particularly with respect to the amount of orange on the forewings and the number of black spots found on the underside of the hindwings. This species is our most-widely distributed butterfly and can be found in all parts of the British Isles, with the exception of the most mountainous regions and Shetland.
Orange Tip
The Orange-tip is a true sign of spring, being one of the first species to emerge that has not overwintered as an adult. The male and female of this species are very different in appearance. The more-conspicuous male has orange tips to the forewings, that give this butterfly its name.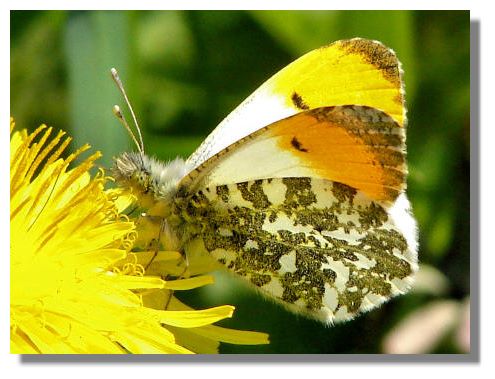 These orange tips are absent in the female and the female is often mistaken for one of the other whites, especially the Green-veined White or Small White. This butterfly is found throughout England, Wales and Ireland, but is somewhat-local further north and especially in Scotland. In most regions this butterfly does not form discrete colonies and wanders in every direction as it flies along hedgerows and woodland margins looking for a mate, nectar sources or foodplants. More northerly colonies are more compact and also more restricted in their movements.
Painted Lady
This species is a migrant to our shores and, in some years, the migration can be spectacular. The most-recent spectacle, in 2009, is considered to be one of the greatest migrations ever, with sightings from all over the British Isles that are definitely on a par with previous cardui years. Unfortunately, this species is unable to survive our winter in any stage. This is a real shame, for not only does this species often arrive in large numbers, but is a welcome sight as it nectars in gardens throughout the British Isles in late summer. This butterfly has a strong flight and can be found anywhere in the British Isles, including Orkney and Shetland. An interesting fact is that this butterfly is the only butterfly species ever to have been recorded from Iceland.
Red Admiral
The Red Admiral is a common and regular migrant to the UK which in mild winters also survives here (primarily in the south of England) so some of the population are from resident stock.
This large black butterfly with a flash of vivid orange-red across its forewings and around the edge of its rear wings and a splatter of white spots towards its wing-tips is a common sight in our gardens during mid-late summer. They are often found nectaring on garden Buddleias Michaelmas Daisy or Ice Plant or during late summer/early autumn seen feeding often in large numbers on flowering Ivy and rotting fruit in gardens and orchards.

Scotch Argus (Erebia aethiops )
Despite its name, the Scotch Argus is not only found in Scotland; it is also found at two sites in the north of England. A freshly-emerged Scotch Argus is a sight to behold, the dark brown velvety uppersides making the butterfly appear almost jet black from a distance. The butterfly is unmistakable when seen basking with its wings open, when orange bands containing distinctive spots are revealed.
Like the Mountain Ringlet, the ability of this butterfly to survive cool temperatures means that it was probably one of the first species to recolonise the British Isles after the last ice age, over 10,000 years ago. The English colonies, Arnside Knott and Smardale Gill, are both found in Westmorland. Colonies are much more numerous in Scotland, where this butterfly can be found in most of northern, western and south-west Scotland. This butterfly is absent from the lowlands of central Scotland, many of the western isles (including the Outer Hebrides), Orkney and Shetland. A colony at Grassington in Mid-west Yorkshire, famous for a particular race that had reduced orange markings, became extinct in 1955. This butterfly lives in well-defined colonies that are often very large.
 Small Copper Lycaena phlaeas
The Small Copper is a fast flying butterfly that, once settled, is unmistakable with its bright copper-coloured forewings. It is a widespread species and a familiar and welcome sight for many naturalists throughout the summer months. This butterfly occurs in discrete colonies throughout the British Isles, but is absent from mountainous areas and far north-west Scotland, the Outer Hebrides and Shetland. Most colonies are fairly small, with just a few adults being seen on the wing at any one time.
Small Heath Coenonympha pamphilus
Despite its name, the Small Heath is not confined to heathland and can be found in a wide variety of habitats. The main distinguishing feature of this species is that this is the smallest of our 'browns' and is closer in size to a skipper, Common Blue or Brown Argus than its relatives, such as the Meadow Brown. However, its fluttering flight is quite different from that of the skippers and blues and is relatively-easy to identify in the field.
This charming little butterfly always settles with its wings closed, where the eye spot on the underside of the forewing is usually visible, acting as a decoy to any predator. The forewings are tucked behind the hindwings when roosting for long periods, or in dull weather, the butterfly looking quite inconspicuous as the browns and greys of the underside of the hindwing blend in with their surroundings.
This is a widespread butterfly and can be found over most of the British Isles, with the exception of Orkney and Shetland and mountainous regions. It lives in discrete colonies and adults rarely venture far from the colony. However, the odd adult will venture further afield and will colonise nearby habitat if it is suitable.
Small Pearl-Bordered Fritillary Boloria selene
The Small Pearl-bordered Fritillary is a delightful butterfly found in discrete colonies. Patrolling males can be seen flying a couple of feet from the ground, alternating a burst of rapid wing beats with a short glide, searching out freshly-emerged females in the surrounding scrub. The wing pattern, however, makes the adult butterfly difficult to follow in flight, it being much easier to observe this species when it is basking or nectaring on flowers of Bugle and other plants.
Small Tortoiseshell
The Small Tortoiseshell is one of our most-familiar butterflies, appearing in gardens throughout the British Isles. Unfortunately, this butterfly has suffered a worrying decline, especially in the south, over the last few years. This butterfly has always fluctuated in numbers, but the cause of the most-recent decline is not yet known, although various theories have been proposed. One is the increasing presence of a particular parasitic fly, Sturmia bella, due to global warming - this species being common on the continent.
The fly lays its eggs on leaves of the foodplant, close to where larvae are feeding. The tiny eggs are then eaten whole by the larvae and the grubs that emerge feed on the insides of their host, avoiding the vital organs. A fly grub eventually kills its host and emerges from either the fully-grown larva or pupa before itself pupating. Although the fly attacks related species, such as the Peacock and Red Admiral, it is believed that the lifecycle of the Small Tortoiseshell is better-synchronised with that of the fly and it is therefore more prone to parasitism. This is one of our most widespread butterflies, occurring throughout the British Isles, including Orkney and Shetland.
Speckled Wood
The Speckled Wood is a common species found in woodland and scrub where dappled sunlight and areas of lush grass grow in damper areas. The male will often be seen perched with wings wide open in areas of sunlight chasing intruders and females which wander by. Both male and female butterflies feed on honeydew in tree tops only occsionally being seen feeding on flowers.
MAMMALS
Roe-deer
Fox
Badger
Vole
Field Mouse
Pine Martin
Otter
Feral Mink
Pipistrelle Bat
Long Eared Bat

BIRDS
Blackbird
Blue tit
Bullfinch
Buzzard
Chaffinch
Coal Tit
Common sandpiper
Cormorant
Cuckoo
Dipper
Fieldfare
Goldcrest
Golden eagle
Goldeneye
Great spotted woodpecker
Great tit
Grey wagtail
Heron Hooded crow
House martin

BIRDS cont.
Jay
Little grebe
Long-tailed tit
Mallard
Merganser
Merlin
Mistle thrush
Moorhen
Peregrine
Pied wagtail
Raven
Reed warbler
Robin
Rock dove
Sandmartin
Shelduck
Siskin
Song thrush
Sparrow hawk
Starling
Stonechat
Tawny owl
Tree creeper
Tufted duck
Whinchat
Whooper swan
Widgeon
Willow warbler
Woodcock
Wren

BUTTERFLIES
Red Admiral
Speckled Wood
Scotch Argus
Dark Green Fritillary
Small Pearl-Bordered Fritillary
Orange Tip
Common Blue
Small Copper
Green Hairstreak
Green-Veined White
Large Heath
Small Heath
Hedge Brown
Meadow Brown
Painted Lady
Peacock Small Mountain
Small Tortoiseshell
Web Design & Hosting: Telepoint, Fort William 07971444259